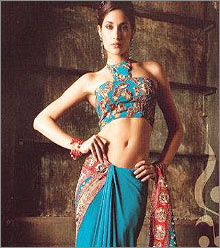 An Indian woman knows it very well that
blouse
can make or mar the looks of a gorgeous saree. As such, they are more than simply cautious about their blouse style. While in the past, low cut midriff baring blouses were the only blouse patterns, in the recent times,
designer
blouse is the hottest
fashion
trend
among the Indian women. Now these designer blouses are made according to the individual needs of a woman as per her body type and other considerations. A blouse with amazing neck patterns and stylish backs have been made popular by the
top fashion designers of Indian Women
. These fashion blouses have various types of neck designs and are decorated with a host of various trims including stones, aari work, sequins, beads, crystals, embroidery etc.
Hot Designer Saree Blouse Patterns
Here are some latest saree blouse neck patterns along with back styles of blouses. Buy them readymade from shops and boutiques or get them stitched from your local tailor- they are amazingly expert in copying any kind of designs just by looking at the pictures.
Halter Neck Blouse
Halter
dresses
are in vogue all over the world. So, how can the blouses of
Indian sarees
remain untouched from their influence?. Tie it up or get it stitched- experiment with neck designs to flaunt your neck and back. In fact, a halter neck blouse has many variations- the classic halter neck that is made popular by the Bollywood actresses, the 'V' halter neck that gives a shape of V to the straps around the neck. Be innovative and use your saree's border for the 'V' shape or you can even use sequined trims, zari or laces for the purpose. There are still others- the crossed halter neck is also very attractive. However, go for it only if you have a long slender neck otherwise it can give you an awkward look.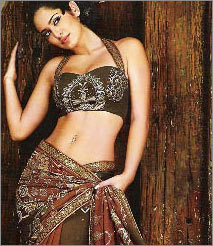 Stringed Back Blouse
A blouse with strings in different patterns sure give a sexy look to the wearer. No buttons or zips, just tie ups for a great style statement. This type of blouse can have long straps that are tied in a knot at the lower back. You can have straight strings side to side tied at the middle- these can be all over the back of blouse or just single or two-three strings at the blouse bottom or top- whatever you think will make your back more attractive. You can even get them crossed strings. And if you don't want the hassle of tying them up every time, have the opening of your blouse in the front instead of the back or get the ends of strings stitched having the look of tie up. Let your imagination fly to get a unique stringed back blouse.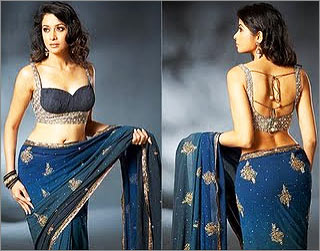 Off Shoulders Blouse
Want to get some more sexier looks? Then go for an off shoulder blouse. Boat neck off-the-shoulder look is the most common and also the most popular. However, sweetheart neck off-the-shoulder look is also liked by many where the
sleeves
are attached separately as if it is a band stitched to the blouse. Again use the border of the saree or any other kinds of trim. A single shoulder style blouse can also do if you feel uncomfortable in both shoulders off. This style of blouse will have just one shoulder strap or sleeve and will leave the other shoulder bare. You can make it a high waisted bustier type or can have a simple design with front buttoning.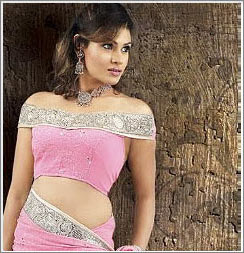 Backless Blouse
The ultimate design of a blouse- bringing out your feminine
charm
the most! You'll sure look hot in it! Leave the back bare with a little slender tie up- a very thin strip at back will make the outfit more sexier than described. However, it depends on you how much of your back you are ready to bare. This type of back looks most attractive in choli designs that are worn with
lehengas
. Just make sure that the single string is tied securely at the back to avoid any wardrobe malfunction!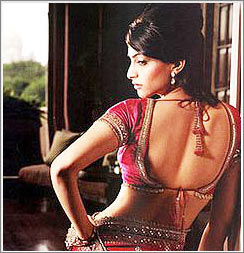 Spaghetti Strap Blouse
For a bold and daring woman, a blouse with spaghetti straps will also do wonders. Get noodle thin straps or just flat strings. And if you want to be some more unconventional, get some sequined or even jeweled straps. You can use anything- pearls, beads or stones to make the straps of your blouse- your choice, of course based on the saree, its fabric and the occasion when you will wear it.