24 November, 2010- We have seen significant impact of Westernization on Indian Clothing. Indian women of all ages have turned to Western garments like jeans, skirts, tops, T-
shirts
, suits and there has been growing preference of such clothing over traditional clothing like sarees, salwar suits and lehenga cholis. Even then, we still a certain section of the population that prefers to follow the traditional Indian clothing. As such in the fashion market today, we see a beautiful amalgamation of Indian and Western clothing, which is popularly referred as "Indo-Western" garments or "Indo-Western fusion" garments or Indian Fusion Outfits.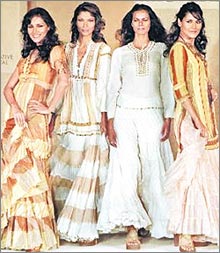 Indo Western Blend
Interestingly, the unique designs available in such dresses with an ethnic Indian touch has gained popularity in the Western market as more and more people globally has accepted this form of clothing. The fusion
outfits
have become "the in thing" today and are becoming the choice of apparel at formal and informal occasions.
There are several fashion designers who have come up with beautiful Indo-Western fusion garments. These garments have become all the more popular as we have seen fashion models, film stars, and other celebrities wearing them in various social gatherings and red carpet events.
The basic concept of fusion outfit is a combination of Western-style patterns and Indian designs. For instance, the simple traditional salwar suits can be given a western touch by changes in the sleeves and neck designs, or a decorative stole used as an accessory for added effect. Again in western dresses like a top or
blouse
or a skirt, Indian embroidery styles from different parts of India like Phulkari from Punjab, Kantha stitch from
Bengal, Chikankari from Lucknow or mirror work from Rajasthan can be seen. Sometimes, more elaborate embroidery styles like Meenakari, Resham, Kundan, Zardozi work are also used. Denim
jackets
and pants are given an Indian touch with embroidery and other embellishments on them.
Indian kurtis
, worn with denim pants or
trousers
, have become very popular among the young crowd. Another popular fusion outfit is a kurti paired with a straight-cut pant-style salwar and a dupatta. Nowadays, innovative styles bringing in the fusion is seen in short dupattas, pants with slits and spaghetti-style tops. Short shirts are worn with patiala style salwars.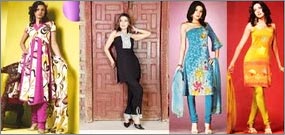 Indo Western Salwar Suits
Even the
Indian saree
has shown a fusion in terms of the materials used or in design patterns. Saree blouses are becoming more and more Westernised in pattern. There are pre-stitched saree to give a figure hugging look. Sarees are being draped in the Grecian style. Instead of traditional cholis,
Lehengas
are worn with halter tops or strapless tops. The lehengas are more or less given the shape of
evening
gowns
.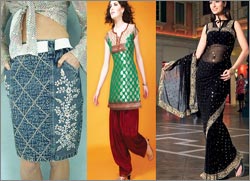 Indian Fusion Outfits
Such amalgamation is also seen in accessories, especially in case of jewelery. Usually, a light Western touch is added to traditional ethnic jewelery, so that it complements with fusion wear.
One of the main reasons why Indo-Western fusion fashion has become so popular in India as well as in other countries is that they have a trendy and elegant appearance. There is this ethnic touch, perfect blending from both Indian and Western cultures, making them suitable for wearing at all kinds of occasions. Such outfits are suitable for wear by almost all age groups, and is all the rage among the youngsters. Indo-Western fusion outfits are available in different styles. The daring ones to the modest ones: you just need to make your choice. Fusion outfit is also more comfortable to wear, as against the traditional Indian dresses, which is why it is being largely preferred by the professional women.