Here is an account of the top 5 Indian fashion designers who have given Indian women clothing new heights through their creativity and innovation.
Sabyasachi Mukherjee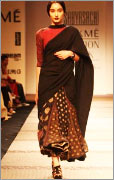 The shining name in today's Indian Fashion Industry-
Sabyasachi
Mukherjee- is a socially aware fashion designer. He has taken the mission of popularizing the refined, sophisticated, eco-friendly, comfortable and very Indian 'khadi' among todays fashion conscious youth. For all his
handloom sarees
and other fabrics homespun by rural craftsmen, he deals with them directly by cutting the middlemen and ensuring that they get their share of profit. He has taken the time proven way to popularize his designs- the Bollywood way.
He has designed for Aishwarya Rai for her two under production films - Ravana and Guzaarish - and for Vidya Balan in Paa which is also due to be released. Naomi Campbell did catwalk in a Sabyasachi
sari
in March this year for a charity show at the Lakme Fashion Week in Mumbai and then purchased two saris for the auction. Mukherjee's love for Indian clothing gets clear when he says to the Indian Vogue "I wish Indo-Western was never explored. It almost sounds like a pathetic attempt to woo your insecure Indian woman to try her hand at
Western
clothing
. She's better off in her sari!" To young women, he has gifted the chhotu sari- that are woven to calf length for freedom of movement. These sarees are long enough to give them the flowing shape, but short enough to differentiate them from their mothers while letting them show off their ankles and shoes- A great innovation.
Ritu Kumar
Ritu Kumar is a big name in India's Fashion industry, specially for Indian women clothing. She blends modernity with traditionalism very well. She has recognized the delicate Indian craftsmanship and given it such a shape that it has become the choice of modern consumer making it the most contemporary style. The traditional Indian clothes designed by her draw heavily on the textile and embroidery heritage of India. She designs keeping in mind the end user. Thus, she has evolved another style for her European buyer-the Indo-Western fusion which includes block prints, embroidery and craft inputs on a western style.
Indo-western salwar-suits
can be called one of the manifestation of this trend. Kumar has designed for many Miss India contests and has given international recognition to the Indian women clothing. To make Indian clothing popular worldwide, she has also authored a book 'Costumes and Textiles of Royal India' published by Christie's, London.
Satya Paul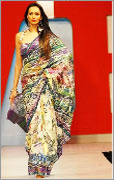 On fashion magazines and on billboards, malls, all places where fashion is the norm, the designer brand- Satya Paul- is there. This is the prove how much the fashion conscious people like his designs. Satya Paul brand is the premier designer brand for
sarees
and scarves among other fabrics. Paul has always been a supporter and promoter of the various crafts of weaving from all over the country. He is also the one to use the latest technology for creating his designs. One of his major contributions to Indian fashion is the change he brought in the way the saree is draped. He has also enormously innovated salwar kameez. Satya Paul specializes in Indian
bridal wear
,
printed saris
, embellished saris,
stoles
, scarves,
embroidered salwar suits
, among others.
Manish Malhotra
In a country like India, where the fashion is mostly defined by Bollywood, a designer like
Manish
Malhotra
can truly be called one of the top Indian fashion designers for
women
clothing
. With his entrance in the Bollywood at the age of 25 and designing for Juhi Chawla in 'Swarg', he brought a revolution in stylish clothing. And with his magical makeover for Urmila Matondkar in 'Rangeela' and Karisma Kapoor in 'Raja Hindustani', he made every Indian woman his fan. Although
Bollywood sarees
were famous since the classic era of Indian cinema, they got a boost after Malhotra's experiments. He got many awards, one of which is Indira Priyadarshini Memorial Award for his contribution to the fashion industry, felicitated by National Institute of Fashion Technology. Manish has been able to strike a fine balance between designing for films and haute couture. With his Sheetal Design Studio, he now plans foe a prêt a porter line for women along with his couture label.
Rina Dhaka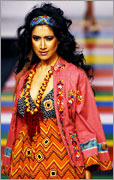 Hers is a big name in the Indian fashion Industry. Dhaka had stepped into Indian fashion arena in the late 1980s and since then there is no looking back for her. She is known for her innovativeness in her designs. She is famous for her theme collections. Although initially her forte remained western wear, she has experimented a lot with Indian clothing too. In the beginning of her career, she had made a line of designs for the 'then coming up and now famous' fashion houses 'Mutiny' and 'Ensemble'. She had also set up a '
Salwar Kameez
' boutique for one of her acquaintances. She admits to be in love with
western
wear
designing but she has also started doing Indian garments in knit and other fabrics. According to her, Indian wear basics support her western wear creations and a purely western line is otherwise difficult to sustain.