The cargo skirt has been quite famous for many years; it represents a rebellious youth and a confident attitude. Derived from those multiple pockets and baggy bottomed cargo pants which were made famous by the army during the war of 70's, they have hit the main stream market in a big way. They are identified by many large pockets with buttons and closable flaps. The usual color is khaki and the fabric used is cotton, but other fabrics may also be used by some designers. Apart from boasting big front and side pockets, cargo skirts may also have a back pocket or two as well.
The style "cargo" is believed to be derived from the type of pants used in military. Cargo skirts are also named so because of their ability to carry goods in their pockets.
Your choice and type of cargo skirts is not hard to find considering the variety and types available in the market. There are all sorts of skirts to buy. You can choose from long skirts with stretchable material to a Ralph Lauren pure silk, low waist, mini skirt that still will boast a lot of pockets. A knee-length cotton skirt by American rag has front pockets with zip and cargo pockets at the side for a reasonable and downright low price. Then there are the satin cargo skirts, 100% polyester, with front pockets and zipper fly, or a wonderful long khaki skirt that promises to turn heads. The choices are never ending and there are always newer and hotter cargo looks coming to the fashion market.
The cargo skirts popularity has substantially increased in one form or another since the 1970's.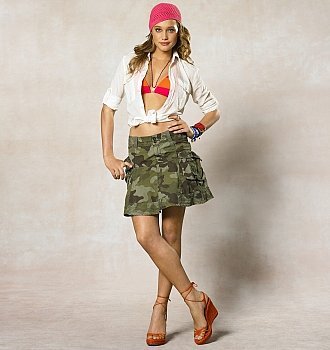 The practical look and comfortable feeling of the cargo skirt has made them a casual wear essential and in turn, insured their presence in fashion for a very long time to come. If still don't have one of these fabulous cargo skirts in your closet, what are you waiting for?.