The traditional wear of the states of north India such as Jammu &
Kashmir
, Delhi, Punjab etc. is the
salwar kameez
.As such, the Brides of this region wear salwar kameez on the occasion of their weddings. These salwar kameez sets are no ordinary ones, they are special
bridal salwar kameez
.They are made of the most luxurious fabrics like
silk
, brocade and even the cloth material made in Banaras which is generally used to make the royal
Banarasi sarees
.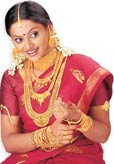 Bridal Wear of South India
Sarees of South India have extra richness and grandeur so what else can be the bridal wear of South Indian brides other than these sarees?
Kanjeevaram Sarees
from among the rich treasure of exquisite South Indian sarees are the traditional attire of brides over here. These sarees are not only the most favorite of brides but they also make the wardrobe of each and every Indian women complete, who wear these sarees on special occasions.
Bridal Wear of East India
Muga Sarees
of Assam,
Baluchari Sarees
of Bengal and
Bomkai Sarees
of Orissa – they are actual delight to see and wear. How can a bride from these states go for any other bridal wear? These handloom sarees /indian-sarees/handloom-sarees.html are so skillfully made to embrace the required grace of a bridal wear that they need no other outer embellishments. However, these days, East Indian brides also like to wear Banarasi sarees due to their sheer elegance.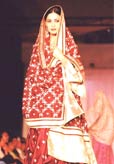 Bridal Wear of West India
The brides of western region from the states like Gujarat, Rajasthan and their neighboring states wear
lehengas
or ghagra choli on the occasion of their wedding. They are made up of luxourious fabrics like silk, satin,
organza
etc. The traditional lehengas are heavily decorated with zari and gotas which are stripes of golden and silver fabrics, often carrying real
gold
and silver. Beads, mirrors, sequins and other decorative trims are also heavily used to embellish the
bridal lehengas
.
One of the interesting facts of Indian brides is that they prefer to wear traditional bridal wear on their weddings. And not only the traditional
dress
of their own region but any bridal wear that attracts them, thanks to the feeling of national oneness in India. So, don't be amazed if you see a Punjabi bride adorned with an
embroidered lehenga choli
and a South Indian Bride wearing a Banarasi saree!