In the warm toned dress line up below, the silhouette moves from the popular A-line yoke shift, to the red prom line full skirt. This red prom dress is also much more modest than bustier styles of last year. The silhouette moves back to tiered half skirts on pencil line underskirts and in the final pink dress the waist shows 1920 influence as it drops to a high hipline. As a result, skin exposure is additionally much more restrained in the 2009 summer dress.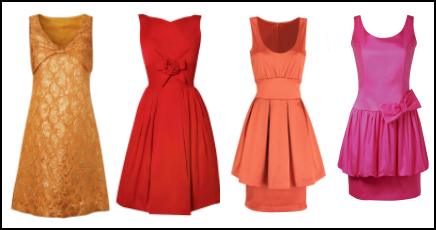 The silhouette is changing and it is obvious a wider skirt will very soon be the norm.
Far Left - Dorothy Perkins Spring Summer 2009 - Gold jacquard shift dress £40/€60.
Centre Left - Dorothy Perkins Spring Summer 09 - Red bow front prom dress £45/€70.
Centre Right - Littlewoods Direct Spring Summer 2009 - Two layered peplum dress £49.
Far Right - Dorothy Perkins Spring Summer 09 - Pink bubble hem dress with bow £45 €70.
For summer 2009 the dress fashion trend most likely to win over every age group is the 60s A-line shift dress, such as the orange brocade dress above left or these easy A-line dresses left.
Left - Richard Nicoll for People Tree - Pink Stripe Ruffle A-line Shirt Dress - £75.
Both embroidery and beads are also used to embellish these summer dresses, especially at centre fronts and necklines. This transferred trend really stems from the influence of kaftans in fashion. Centre Left - Coral Pip Dress £65 / €110 - Fusion Monsoon Spring/Summer 2009.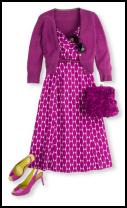 Even empire line dresses, like this bold bright magenta dress from Boden and the floral dress below right, are moving toward A-line silhouettes. Right - Boden Spring Summer 2009 - Magenta outfit of A-line empire dress and cashmere cropped cardigan, rose covered handbag and sling back shoes.
Short, knee, calf or maxi length dress - it does not matter; just make sure you have at least one empire line dress in your wardrobe this summer and preferably one with full kimono sleeves to ensure you can instantly feel updated.
The Empire Line LBD
What could be more grown up than this raised waist little black dress from Harvey Nicholls. It is the ultimate grown up dress, yet combines youthful frivolity with sophistication.
Left - The LBD from Harvey Nichols. Giambattista Valli Rope Detail Sheath Dress.
The garden has meandered onto summer 2009 frocks, and of course roses abound in prints and create such stylish dresses. Few floral prints could be more delightful or epitomise hazy summer days more than Harvey Nichols' empire line dress right.
Right - Twenty8Twelve Pixelated Rose Print Empire Dress at Harvey Nichols