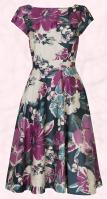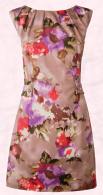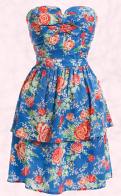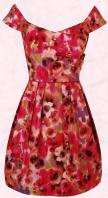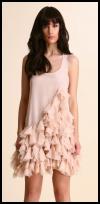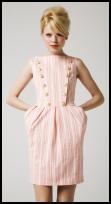 A Bold Colour, a Soft Pastel or Print for Everyone
Left - Posey Dress £75 / €127 form Monsoon Spring/Summer 2009 Main Range.
Centre Left - Dorothy Perkins Spring Summer 2009 - Brushed floral shift dress £40 €60.
Centre Right - Miss Selfridge Floral Blue Prom Dress - £45/€68 - Miss Selfridge Spring Summer 2009.
Right - Pink Waterlily Dress £60 / €102 - Monsoon High Summer 2009 - Fusion. This Pushing Daisies dress is inspired by all things ladylike. It has blurred florals with the classic Fifties silhouette of nipped-in waists with sophisticated, mismatched styling.
Prints in Summer 2009 Dresses
Pattern is very important with botanical garden prints, and there are also Amer-African tribal prints and animal designs. Brushstroke marks and hazy watercolour blends of dyes that run into each other add a touch of dreamy lightness to lazy summer day frocks, tea dresses and occasion wear. Many of the currently fashionable retro inspired prints examples above are reminiscent of Vintage 1950s Calpreta cotton satinised fabrics.
One instance where pattern is shown to great effect is in the kimono sleeve and Kaftan sleeve. Widths of sleeve and drape vary, but the potential for even greater volume is still growing.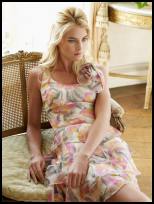 You may like the newness of the softer
fondant colours with a watery sorbet appearance. These soft flesh pink dresses have a wistful femininity about them.
The summer dress far right from asos.com has a frilly ruffle hemline interest in line with frill and haberdashery trims so fashionable on 2009 garments. The rose-print dress centre also has a rose corsage on the shoulder to emphasise the tiered frill frock. Centre Right - Littlewoods Direct Spring Summer 2009 Corsage detail summer dress £59.
The pink and white shift dress far left right has elements of military a trend that has been ongoing for some years. This year striped fabrics are a hot fad too.