Plain bold colours, or monochrome schemes, produce powerful yet summery looks. Newer fabric decoration gives full rein to the paint box. Painted-on colour using wide brushstrokes of watercolour, plus soft dreamy Ombre effects, create a kaleidoscope of colour yet are blended to art palette perfection.
Floral roses, trailing blooms of sweet peas and daisies combine to create watercolour like prints. Fabrics done in a painterly manner allow whole gardens to be brought to dresses, as shown by the dresses above. Such patterns suit the classic waisted fifties dress so well.
Right - TK Maxx Floral Print Dress. £49.99 Spring Summer 09 Dresses.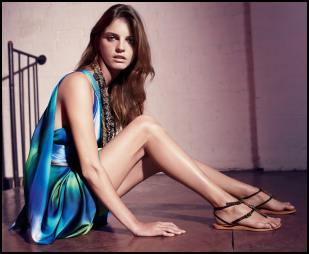 The tunic dress above left, by Michael Angel, is in an abstract wet-on-wet watercolour material similar to the styles of fabrics from Celine shown top of the page.
These dye print/ombre/brushstroke/tie-dye effects are so new they blur the boundaries of traditional pattern and prints, the result is to invent fabrications that have the look of hand painting and hand-screen printing.
Blue is an important colour this year, and fused with aquamarine green or purple mauve it becomes like a vibrant psychedelic dream.
The blue and sea green dress right, and which reflects all the colours of the sea, is from Warehouse Spring 2009 Womenswear.
Warehouse Impact Print Dress £60/€95, Necklaces start from £14/€22, Sandals £28/€45.
Prints help to fashion a more ethereal and exotic effect. Fabrics are layered or given additional texture with brocade surface interest and the play of metallic, satin and silk fabrics combine to add surface depth.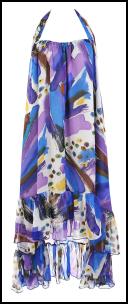 Designers are using the artist palette in its full range even in animal prints. We are seeing patterns from zebra to leopard, which are much more exotic than in previous years; what makes the difference is the rich jewel hues.

Bright colour is one of the strongest fashion statements of the season. This vivid blue paint brushstroke halter maxi dress left is from TK Maxx and bears striking print imagery similar to the designer fabrications above.
Left - Multicoloured blue mix halter-neck maxi dress £29.99 Spring Summer 09 Dresses TK Maxx (Limited availability on items at TK Maxx).
Stylised statement is the key to Japanesque detail, for example, print fabrics with meandering motif ornamentation that have bold Ikebana styled flora and grasses like this Monsoon maxi dress. Maxi dresses offer a large canvas of fabric, and are wonderful to display the largest of lone motifs as a bold single work of art.
This dress is part of Oriental Garden, Monsoon's range full of Eastern promise. The collection fuses vintage detailing with the delicate allure of the Orient. It is inspired by the romance of nature, Japanesque floral prints and intricate embellishment all teamed with an uncomplicated silhouette. Right - Tokyo Maxi Dress £55 / €93 - Monsoon Spring/Summer 2009 Main Range. You are reading an original article about fashions in summer dresses for 2009