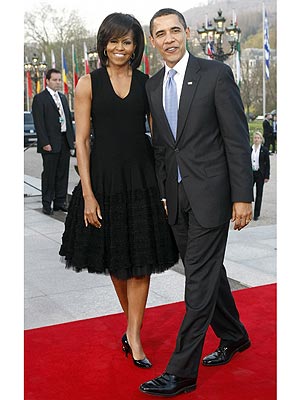 Have you ever wondered why black dresses are so popular among women?
Black dresses seem to be appropriate for any event during any time of the year. No matter what kind of party you are attending, there are always women in black dresses.
Recently we were invited to a fund raiser for the local hospital. The event was a formal dinner, silent auction and dance and was held at a local country club. My husband wore his best suit and I wore an evening dress that was royal blue.
As we mingled among the guests I noticed that the
majority of the women were in formal black dresses. All of the black designer dresses were different styles but since there were so many of them, the styles didn't matter because the only thing you noticed was the color.
A Blue Dress can Work Too!!
Since I felt out of place in my blue dress, the thought went through my mind that I had two black dresses I could have worn and wished I had picked one of them.
Then my husband asked me to dance.
As we were dancing he told me how pretty I looked and that he was glad I was wearing the blue dress. He said he gets tired of seeing women in black dresses all the time.
After he said this, I started contemplating on the number of times women are told they have to own a little black party dress in order to complete their wardrobe. Think about it! When you go shopping for clothes, black dresses are the most plentiful items on the racks.
The styles vary, but as I had experienced at the fund raiser, when you see so many people in the same color the styles do not stand out. The two black dresses that I own are very different from each other in fabric and cut, yet I am sure that when I wear them most people just notice that I have on a black dress.
When I was young I was invited to the high school prom. My mother and I went shopping for a dress for me. There were many styles and colors, but of course, the one I liked was in black. My mother would not allow me to get the black dress. She said that women spend so many years wearing black dresses that I should wear a brighter color while I was young.
I think my mom was ahead of her time in her way of thinking. I am sure that black dresses will continue to be the accepted norm for formal occasions because every female owns at least one black dress, but women should not limit themselves to the one color.
As I was thinking about my black dresses, ideas came to me about how I could make them appear dressy or casual just by adding a few accessories, but since the comment my husband made at the fund raising dinner, I am more elective in the colors that I choose for my special occasion clothing. I still want to dress tastefully for an occasion, but I am no longer limiting myself to black dresses. It made me feel good that my husband thought I stood out from the other women in the room.
But, I guess everyone needs at least one little black dress they can throw on and look fabulous in for that last minute invitation to a special event.
Remember, if you must wear black, you can be the highlight of the evening and stand out from all the other women by adding elegant jewelry, flashy purse or even a jacket.